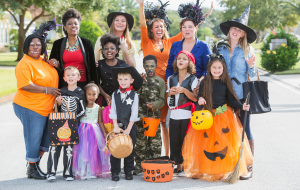 As the temperatures lower and we start to enter into the fall season, one of my favorite holidays is approaching: Halloween. I remember as a kid the excitement that would build each week as it approached. Being able to dress-up and pretend to be something you idealize is an American tradition unlike any other. For one night a year, you are encouraged to get outside of your home, knock on your neighbor's door, and ask for a Trick-or-Treat.
Halloween can be fun for the young and old alike, but with this unique holiday also comes unique risks. As we know, Halloween brings out a lot of children with hopes of scoring as much candy as possible in one fateful night. It is essential to be aware, both as a pedestrian and as a driver.
If you are planning to trick-or-treat, there are three things that can be done to increase safety and give everyone a better experience.