People don't think that spring cleaning involves their computer but believe it or not, your computer can get unorganized very quickly; think about all those junk files and forgotten documents that have been piling up. Keeping your computer organized is easier than it seems. Here are some tips to help prevent your computer from becoming your next major headache: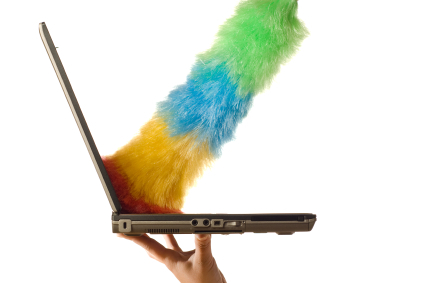 1. Use folders to organize your desktop.
Your desktop can quickly become littered with shortcuts, duplicate files, and screenshots which can slow down your computer and make it difficult to find what you're looking for. You can prevent this by creating folders to organize your files and shortcuts. Create a folder on a Mac by right-clicking on the desktop and select "New Folder"; for a Windows-based computer, right-click the desktop and select "New", then "Folder". You can easily rename your folder and drag-and-drop files here to help you stay organized.
2. Don't be afraid to delete unnecessary or duplicate files.
Unused files and copies of documents can take up a lot of space on your computer. The "Downloads" folder is often forgotten about and the files here are usually no longer needed. Save space and improve your computer's speed by deleting these unnecessary files.
3. Clear your internet browser.
Cleaning your internet browser's cache and browsing history regularly is a great thing to do. How you do this will vary depending on your browser but you can typically find an option to clear the history under "Options" or "Menu." Some browsers might ask if you want to clear your cache and cookies too; do this regularly and you can improve your browser speed, as well as keep your computer safer
4. Scan your computer for viruses.
This is really important because scanning your computer for viruses and other issues can not only improve your computer's performance, it can save your computer's life! While there are many programs that can scan your computer, I suggest using anti-viruses and anti-malware programs like Malwarebytes and Advance System Care; both are free and easy to download.
5. Back up. Back up. And back up!
One way to make sure your computer stays clean and safe is by backing up your important files and programs onto another hard drive. An external or flash drive is a great option if it has enough memory available. You can even use an external or flash drive to store files from your computer so they don't take up valuable space.
Hopefully these five easy tips will help keep your computer clean and organized, not to mention save you from some headaches! Please let me know if my tips helped, or if you have any additional suggestions by leaving a comment below.
Source with permission to repost: https://blog.central-insurance.com/2016/05/25/5-tips-to-spring-clean-your-computer/