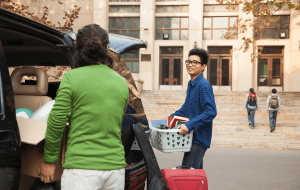 This is the time of year I often receive questions about the coverages needed to protect students who are going away for school. These requests are common for parents sending their children off to college for the first time. College campuses won't look the same this coming fall semester, but growing numbers of U.S. colleges are pledging to reopen, so there will be students heading to college soon.

Courts have long determined that a dependent child away at school is still legally a resident of their parents' household. In fact, with the policy contracts used by many insurance companies, there are situations where no additional coverage needs to be purchased.
On the most commonly used homeowners policies, a student under the age of 24 is covered by his or her parents' homeowners policy as long as they are enrolled full-time in school and were a resident of the household before moving out to attend school.
So what coverages apply to your student while they are away at college? First and foremost, they are protected by the Personal Liability section of your homeowners policy for bodily injury or property damage they cause. However, it's important to note that intentional acts are not covered. Your son or daughter will be facing new responsibilities and exposures, so it's a great time to consider purchasing a Personal Umbrella policy to provide an extra layer of liability protection for your family.
For all the "stuff" that will be moved into a dorm room, coverage for personal property is available up to an amount that is equal to 10% of the personal property coverage limit on the parents' policy. Personal property includes things like clothing, small furniture and appliances, and electronics. Of course, the policy deductible would apply in the event of a property loss, such as theft of personal property.
Electronics, such as a laptop or tablet, may be one of the greatest concerns. Some insurance carriers allow these items to be listed separately on the homeowners policy, so that a deductible would not apply to a loss. However, I often discourage this type of coverage on most of these items as I think it's prudent for policyholders to self-insure smaller losses. Small losses may be looked upon unfavorably by insurance companies, may increase the premium at renewal time, or could even result in coverage being discontinued when combined with other losses.
In some cases, the student (or parents) may sign a lease for an off-campus apartment. While it's possible that coverage may still be available by way of the parents' policy, this is often a good opportunity to equip the student with their own Renter's Insurance policy to ensure that there's no coverage question. See our blog post for more Reasons You Need Renters Insurance!
Last but not least, we occasionally receive requests to add an apartment building owner to a renters policy. Essentially, this means the landlord is requiring the renter to carry insurance coverage – particularly liability coverage. In these instances, the landlord can be added to the policy as an Additional Interest. This allows the building owner/landlord to be listed on the policy declarations and to be notified in the event that the renters insurance cancels. The Additional Interest endorsement does not provide any coverage to the landlord.
I hope that this summary is helpful to families that will be heading to campus this fall. Be smart, be safe, and best of luck!
The policy coverages described above are in the most general terms and are subject to the actual policy exclusions and conditions. For specific coverage details and policy exclusions, refer to the policy itself or contact your agent.
Original blog published July 2014.
Copyright © 2020 Central Mutual Insurance Company. All rights reserved.