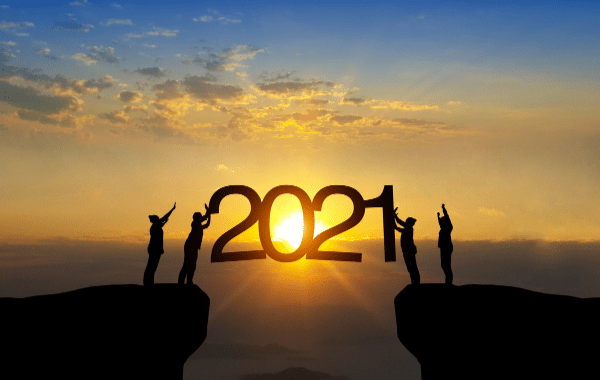 Did you know 9 out of 10 people will fail with their New Year's resolutions? 50% of resolution makers will fail by the end of January. 2020 was a tough year in many different ways for everyone, so it is more important than ever to focus on positivity and hope for the upcoming year. Maybe it's time to stop making New Year's resolutions, and focus on "one word" instead!
The book One Word That Will Change Your Life by Jon Gordon focuses on the idea of choosing one word to focus on as your driving force for the year. Instead of making a New Year's Resolution (that no one seems to keep anyway), you choose a word to live.
"One Word creates clarity, power, passion, and life-change. The simple power of One Word is that it impacts all six dimensions of your life – mental, physical, emotional, relational, spiritual, and financial. Simply put, One Word sticks. There is a word meant for you and when you find it, live it, and share it, your life will become more rewarding and exciting than ever." Getoneword.com
Sounds pretty amazing, right? With the end of the year rapidly approaching, instead of creating New Year's Resolutions that are nearly impossible to attain, why not select one word? It is important to select only one so you can focus on what it means to you. If you are struggling to find your word, here is a simple process I found on http://myoneword.org/pick-your-word/ to find your word.
Determine the kind of person you want to become.
Identify the characteristics of that person.
Pick a word.
For inspiration, here are some words that my coworkers and I considered or selected: joy, more, gratitude, progress, confidence, better, adaptability, hopeful, consistent, stable, silent, disciplined, grace, patience, balance, learn, intentional, love, self-control, purpose, flexibility, perseverance, and contentment.
Once you have selected your word, you will need a daily reminder of your word! You could create a painting with your word and hang it somewhere you'll see every day. Or find a picture online of your word (I love to search Pinterest to find word pictures) and set it as your computer's desktop background.
I genuinely believe in the power of Jon Gordon's "One Word." I think it simplifies your goals. Focus 2021 on one word, and feel free to share your word in the comments below.
Copyright © 2020 Central Mutual Insurance Company. All rights reserved.