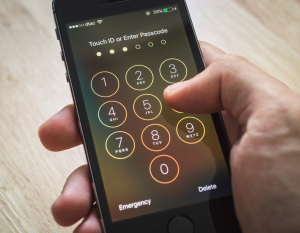 As we move further into the 21st century, technology innovations continue to improve and become more accessible, which means more and more people now own smartphones. Smartphones are more than just an expensive paper weight in your pocket; they've become a small computer in your hands. You can do everything from manage your bank account and shop for groceries, to catch imaginary creatures at the park. But the more we use these mobile devices, the more sensitive data they contain and the more we need to protect them. Here are some tips to keep your smartphone, and the information on it, secure:
Lock your phone with a PIN, password, or pattern. This might sound like common sense but this can prevent other people from using your phone and the information it contains.
Always download apps from trusted sites. The Google Play or Apple app store are two trusted sites for downloading apps. If you are downloading from somewhere else on the Internet, check to see if the URL beings with "https" instead of "http". The "s" means it is a secure website.
Remember to log out of apps or websites. When using your phone to make bank payments or on an app that uses your personal information, remember to log out of your account once you are finished.
Beware of public Wi-Fi. Public Wi-Fi can be dangerous because everyone is using the same connection. A hacker can easily see what you are doing on your phone and could possibly access your account and steal your information. To avoid connecting to public Wi-Fi, disable the Wi-Fi setting on your phone.
Back up your smartphone's data. Since your smartphone likely contains a lot of personal information, it's a good idea to back up your data. You can save your data to your personal computer at home or there are apps available to back up your data including Verizon Cloud,Ultimate Backup and Easy Backup & Restore. Of course, it's always best if you…
Don't store sensitive personal information on your smart phone. Avoid saving social security numbers, credit card numbers, or any other sensitive personal information on your smartphone to reduce the risk of identity theft.
Beware of privacy settings on apps. Sometimes apps request information from you and your smartphone. You can disable or deny these requests to prevent them from finding your smartphone's location and passwords.
Protect your phone with an antivirus and antimalware. As I've noted, your phone is just like a small computer so you should take the same protective measures for your phone that you might your home computer. Use antivirus or antimalware apps to prevent your phone from becoming broken and useless. Some good apps include 360 Security, AVAST Mobile Security andAVG AntiVirus Security.
I hope these tips help you keep your smartphone from becoming more than just an expensive paper weight!
Source: https://blog.central-insurance.com/2016/07/14/simple-tips-to-protect-your-smartphone/